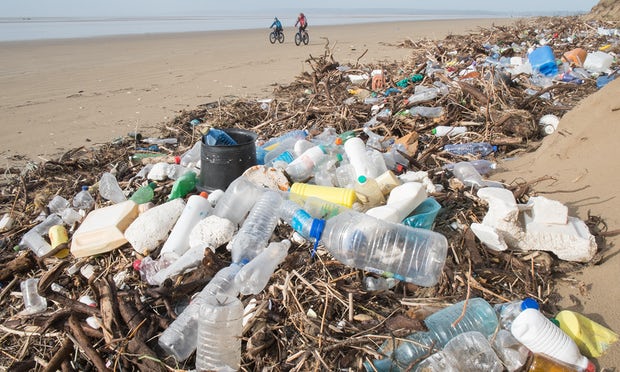 22 May 2017. Dyani Lewis, The Guardian
RECYCLING IN AUSTRALIA IS DEAD IN THE WATER. THREE COMPANIES TACKLING OUR PLASTIC ADDICTION. 
here's no escaping plastic in modern life. In Australia, more than 1.5m tonnes of the crude oil derivative is consumed each year, not including plastics imported in finished products or their packaging. And most of this ends up on a centuries-long path to degradation in landfill or the world's waterways and oceans. One recent sobering analysis has estimated that by 2050, the weight of plastics in the oceans will match that of fish.
Reducing consumption by avoiding the use of disposable plastic shopping bags, for instance, and reusing plastic containers are important waste-reduction measures. But what role does recycling play?
Despite our profligate consumption of plastic goods, only 300,000 tonnes of the stuff is collected for recycling each year in Australia, according to the Plastics and Chemicals Industries Association of Australia. Around half of this is sent overseas for processing and a further 20% of the plastics reprocessed into pellets to be made into new products is also sent overseas.
Not all plastics can be readily recycled. Hard thermoset plastics commonly used in electronics are currently unrecyclable, though researchers are finding ways to change that. Even for those plastics that are recyclable, the process often begins with mechanical or hand sorting into separate plastic polymer classes – represented by that number emblazoned within the recycling logo on the bottle or container – before reprocessing can begin.
But technical challenges are not the main bottleneck for plastics recycling, according to Mark Jacobsen, director of marketing at recycling firm Replas. "Recycling in Australia is dead in the water," he says, unless people are willing to buy products made of their own waste.
Replas has been in the recycling business for close to three decades, turning soft plastics such as milk cartons and squeezable shampoo bottles into sturdy plastic play equipment, termite-proof boardwalk decking and bollards that outlast their timber alternatives by decades. Yet Replas only processes about a third of what it has the capacity to and frequently turns down offers of more scrap plastic.
"The whole economy has got to change," says Jacobsen. Currently, he says, people still view plastic primarily as a waste product. The company now uses a partnership model, only accepting plastic waste from organisations willing to buy back the recycled products they make. Large supermarket chains, such as Coles and Woolworths, are some of those leading by example, says Jacobsen. Some city councils are also shedding historic buying practices, which often dictate purchasing decisions, by incorporating recycled plastic into their operations.
A few years ago, Replas partnered with RED Group, the Melbourne-based company behind the REDcycle program that collects soft plastic packaging for recycling. Elizabeth Kasell, director of RED Group, abandoned a career in the fashion industry to start the company in 2010 because she saw an unmet need every time she threw a plastic bread bag in the bin.
This type of soft plastic packaging is normally a problem for the mechanical sorting machines used in plastic recycling operations. The REDcycle program eliminates this hassle by collecting and processing the packaging separately, before sending it on to Replas for incorporation into its products.
Another Australian company, Range International, is avoiding the need for sorting altogether and is tapping into a massive market. The company, which listed on the ASX in 2016 and whose backers include Prince Albert II of Monaco, recovers unsorted mixed plastic waste from Indonesian landfill. A process involving heat and intense pressure turns the waste into a malleable plastic "cookie dough" that is pressed into moulds in the shape of shipping pallets.
"What we have in our product is actually two environmental benefits contained in one," says the Range International chief executive, Lars Amstrup, referring to the diversion of landfill waste and the replacement the industry-standard timber pallets with plastic ones.
Range International's choice of market for its recycled plastic was deliberate – over 5bn new shipping pallets are made annually. Almost all of these – 93% – are made from timber and consume 40% of the world's timber supply, according to the company's website. Many of these require heat treatment and fumigation before being shipped on a single journey to their destination country and discarded.
For every 25 of Range's plastic RePal pallets bought, the felling of one tree is prevented, according to the company's figures, and an independent analysis of the magnitude of environmental benefits provided by the scheme is currently in preparation.
Expensive virgin plastic pallets are available, but usually cost far more than their timber alternatives. Range's philosophy, says Amstrup, is to sell their pallets for the same price as a timber pallet, thereby making the switch to recycled pallets easy for companies seeking a greener approach to international commerce. Range also ships pallets back for reuse by the same customer, resale or reprocessing into new pallets.
Only by reintroducing recycled plastics into the economy in this way will plastics actually become part of a circular, rather than linear, economy.
Wednesday April 20th 2017
OUR CEO LARS AMSTRUP TALKING TO MARTY SWITZER ON THE CEO SERIES
17 April, 2017. Alex Schnee, Huffington Post
RE-PAL: SAVING THE WORLD IN A UNIQUE WAY
When you wander into the home improvement store, one thing you might have noticed is the sheer amount of wooden pallets that are located there. If you are environmentally conscious, this can be frustrating to see and to think about when you are trying to make positive changes that will work long term. However, Re-Pal has fixed that problem by providing builders an alternative to wood and the expensive option of Trex or other products.
Few realize how harmful their wooden pallet can actually be to the environment. Not only can the production of wooden pallets increase how many trees are cut down (up to 40% in some regions according to the Re-Pal website), but the chemicals used to maintain the wood once the deck is built can contribute to environmental problems.
The use of timber isn't the only issue. Plastic has become the main enemy to fight in the battle of saving our planet. With plastic eaten by animals and absorbed into the soil without us even realizing it, environmentalists have had to come up with unique ways in order to repurpose those plastic bags we pick up at the grocery store. Re-Pal is one of the most innovative initiatives to come from this desire to clean up our act by reusing plastic in a new way.
Re-Pal's Thermo-fusion process doesn't require sorting, meaning it can use all grades of plastics. The pallets that are created from this process are made entirely out of plastic waste and offer the perfect option for builders who don't want to use chemicals in order maintain the materials. These pallets are also sustainable—if they suffer any wear and tear, they are simply re-inserted back into the Thermo-fusion machine and used again.
Other options can be expensive, as well. Competitors often charge more for their products if they are environmentally friendly. This can often discourage builders from taking a look at alternative options to wood even though it does create a more positive impact. It's also not because they don't wish to lower the prices—but because it is more expensive as a business model to repurpose the materials.
Re-Pal recognizes this and states on its website: "We are able to produce a pallet that is comparable to that of a timber pallet for the same price." In fact, Re-Pal's product might be a better option for large warehouses—their pallets do not absorb moisture like timber and they do not require nails to hold together. Perhaps best of all, the product does not splinter, meaning it is less likely to break than regular wood.
Pallets are often not designed to be easily transportable, either. They take up large amounts of space, which in turn can increase shipping costs of both the product that is attached to the pallet and of the pallets themselves. Re-Pal created a new design with this in mind, offering a sleek way to transport the pallets while easily stacking them on top of one another. There is also no need to worry about disposing them. Re-Pal has made their product 100% recyclable, so they can be used again and again.
Changing how we interact with our environment and coming up with innovative solutions will take time and thought. However, with companies like Re-Pal thinking ahead and creating products that can be sustainable, we are on the right track to making a difference. It's refreshing to see a company return to the basics of what we need in order to function as a more environmentally-friendly world—hopefully other companies can adopt this model of making it possible to be green without the added price.
http://www.huffingtonpost.com/entry/58f52f59e4b04cae050dc9fd
Wednesday April 11th 2017
SKY NEWS BUSINESS WITH LARS AMSTRUP – PART I
Wednesday April 11th 2017
SKY NEWS BUSINESS WITH LARS AMSTRUP – PART II
Wednesday April 11th 2017
COMMSEC EXECUTIVE SERIES WITH LARS AMSTRUP
4 April, 2017
RANGE INTERNATIONAL SALVAGES 888,000 KILOS OF WASTE PLASTIC
Pallet manufacturing company Range International who salvages mixed waste plastic and turns it into cost competitive recyclable shipping pallets, has utilised 888,000 kilos of plastic from landfill in its short first year as an ASX company.
Range International Managing Director Lars Amstrup said the company had experienced positive and encouraging engagement with large scale multinational customers which had been strengthened by the ability to demonstrate the path to large scale operations.
"2016 was a momentous year for Range International. Our successful IPO provided the means for the expansion of our business and we are seeing very positive results," Mr Amstrup said.
Listed in Sydney, with its operational headquarters in Indonesia, Range International currently has two production lines operating in its new factory in East Java, with an additional line scheduled to be installed every 6 weeks until December 2017.
"Production in our new East Java facility started in January, only 6 months after our ASX listing. We are on track with the installation of 8 new ThermoFusionTM production lines, having 10 lines in that factory in 2017 – achieving this in a very short span of time is a significant achievement," he said.
According to Mr Amstrup, with the global pallet market estimated to exceed $50 billion in annual sales in 2017 the opportunity to influence change was enormous.
"By the end of 2017, we will have the annual capacity to turn many millions of kilos of waste plastic that would otherwise have ended up in landfill, or escaped into the environment and oceans, into environmentally friendly, cost competitive shipping pallets. In turn reducing the demand for sawn timber from trees, to be converted into wood pallets," Mr Amstrup said.
"For every one of our Re>PalTM pallets, we utilise a minimum of 14 kilos of mixed plastic waste like old plastic bags, sheeting, jugs, crates and piping. We are investing our IPO funds to expand production to 16 production lines over the next few years so we have the opportunity to make a significant impact on the global plastic crisis. Our proprietary ThermoFusionTMtechnology enables us to use mixed waste plastic that cannot be re-processed by traditional plastic recycling approaches. We believe this is a real game changer," he said.
Range International has also begun exploring ways to purchase waste plastic from Australian and international companies, after a number of potential industrial customers expressed interest in the possibility of delivering their waste plastics to Range International for conversion to pallets.
"In February 2017, we completed the goal of expanding our sales force to a total of 8 countries in South East Asia, China and United Arab Emirates. Actively increasing our presence to more than 20 sales staff across 8 countries including Indonesia and Australia. This is now a significant focus of the company, and we are very excited about the products and capabilities we have created," Mr Amstrup said.
"The listing also enabled us to develop new product designs to extend the Re>PalTM plastic pallet range. Our new Nestable and Rackable pallet designs address additional supply chain handling needs giving our customers more of what they look for in Re>PalTM pallets: Low cost, environmentally friendly alternatives to wood pallets used in one-way export trade and domestic supply chains. These new designs will launch in May," he said.
RANGE INTERNATIONAL TO LIST ON ASX FOLLOWING SUCCESSFUL IPO
Sydney, Australia, 21 July 2016: Recycled plastic pallet manufacturer Range International (ASX: RAN) will list on the Australian Stock Exchange on Friday July 22, following a successful IPO.
Range International produces Re>Pal™ pallets, an affordable durable and sustainable product made from 100% recycled waste plastic.
Produced using the unique ThermoFusion™ process, Re>Pal™ pallets replace timber and virgin plastic pallets, saving waste plastic from going to landfill or entering the environment and reduce global deforestation. Demand for new pallets is expected to exceed 5 billion units globally in 2017.
The IPO closed on July 6, 2016 having raised AUD$50,000,000. The offer was underwritten by lead manager Morgans, attracting significant interest from institutional and retail investors, and was heavily oversubscribed.
The total number of new shares allotted from subscription through the IPO was 50,000,000 (ordinary shares), with new shareholders making up approximately 33% of holdings. At admission directors held approximately 19% of shares and have agreed to a voluntary escrow of 24 months.
Executive Chairman Stewart Hall congratulated the Board, advisers, staff and clients on the successful IPO.
"This marks a key turning point in the trajectory of our company. Over the coming months we'll have a number of exciting announcements to make as we move into our next phase of growth" said Mr Hall.
"This IPO is about transitioning Range from a company focused on product development and customer trials to commercial scale production."
Company founder and Executive Director Matthew Darby added: "The pallet industry's timber consumption and the world's growing volumes of plastic waste present both a significant threat to our environment and a tremendous opportunity."
"This business is founded on the principle of 'lets change the way we look at our environment and apply sound commercial practices'. This is what Range is and it is what we have succeeded in doing, not just from an environmental perspective but also as a commercial operation."
"Around the world, too many trees are being cut down and too much plastic waste is going into landfill or ending up in our oceans. We are determined to change that."
ABOUT RANGE INTERNATIONAL
Range is a manufacturer of plastic pallets. It has developed the ThermoFusion™ technology that allows it to make plastic pallets from 100% recycled mixed waste plastic at a price that is competitive with wood pallets. It currently has two production lines operating at its factory in Indonesia and sells its pallets under the brand Re>Pal™. With the additional funds raised through the IPO, Range intends to scale up its operations in Indonesia. In the medium term, the Company's goal is to establish a global production footprint and sales distribution network.
The Range board and management team includes:
Stewart Hall, Executive Chairman: more than 27 years of international banking experience, including 15 years based in Indonesia. Prior roles include CEO of Standard Chartered Bank Indonesia and President and CEO of Permata Bank.
Matthew Darby, Founder and Executive Director: founded Range in 2002. Prior to Range, he founded Media Partners (which was sold to TMP Worldwide), and NZX listed Estar Online.
Bill Koeck, Non-Executive Director: former Chairman of ASX listed Fleet Capital Limited, over 35 years experience in Australian and international corporate law specialising in M&A, equity capital markets, private equity, restructures and corporate governance. Appointed to the Australian Takeovers Panel in 2015.
Mark Daniel, Non-Executive Director: President of China Merchants Loscam International from 2008 to 2015 (a leading international Pallet Pooling businesses with operations across the Asia-Pacific region). More than 25 years professional experience in supply chain and logistics, including prior senior management roles with Coca-Cola Amatil Indonesia, Linfox and Pacific Brands.
Lars Amstrup, Managing Director: Former President of CHEP Asia, with 30 years experience in supply chain, logistics and industrial manufacturing.
Geoffrey Walker, CFO Head of Finance: former CFO of ASX listed A.P. Eagers.
Ken Brandt, Head of Global Strategy: former Global Director of Product Development Bramble's CHEP Pallets Division.
Russell Twine, Head of Global Sales, Marketing and PR: Former Asia Head of Sales for Key Account Customers CHEP Pallets.
Bambang Garnadi, Head of Global Operations: former production manager for Tupperware Indonesia.
21 July 2016
THE FIFTH ESTATE
Recycled plastic pallet manufacturer to list on ASX
in brief: Range International, a company which produces pallets from recycled waste plastic, will list on the Australian Stock Exchange following a successful IPO that raised $50 million.
Range says the Re>PalTM pallets produced were cost competitive, and would save waste plastic from going to landfill, while also reducing demand for timber and virgin plastic.
While it may seem like a niche area, the demand for pallets globally is expected to hit five billion units in 2017.
"This marks a key turning point in the trajectory of our company," executive chairman Stewart Hall said.
"This IPO is about transitioning Range from a company focused on product development and customer trials to commercial scale production."
Founder and executive director Matthew Darby said the pallet industry's heavy timber consumption combined with the world's plastic waste problem presented both a significant threat to the environment and a "tremendous opportunity".
"This business is founded on the principle of, 'Let's change the way we look at our environment and apply sound commercial practices.' This is what Range is and it is what we hope to succeeded in doing, not just from an environmental perspective but also as a commercial operation," he said.
"Around the world, too many trees are being cut down and too much plastic waste is going into landfill or ending up in our oceans. We are determined to change that."
21 July 2016
RECENT PRESS